THE ATLANTIC RECORD - Team Bourgnon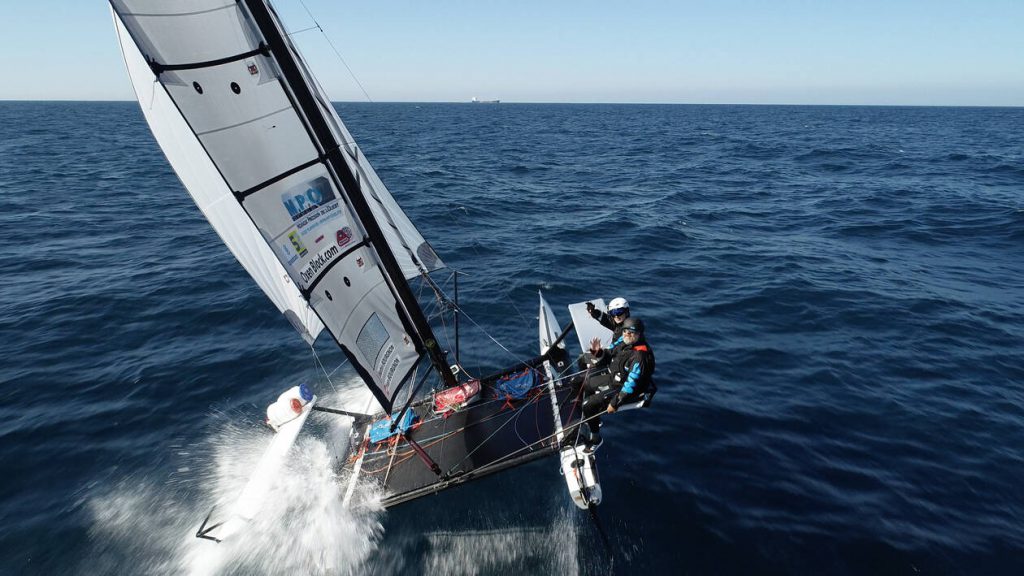 Towards a 4th world record?
A unique and extraordinary adventure.
Father and son on a 20-foot sport catamaran
After the English Channel Record…
After the Mediterranean Record…
After the 24H Distance Record…
Scheduled for the winter of 2022/2023, Yvan Bourgnon and his son Mathis are preparing the Atlantic Record in a sport catamaran (20 feet). A record that they hope to take from the Italians Vittorio and Nico Malingri who established in 2017 in 11 days and 1 hour.
With weel thought trajectories and a good weather window, we hope to be able to lower this reference time below 10 days between Dakar and Pointe-à-Pitre.
In order to beat the record, over a distance of 2565 nautical miles (4750 km) the theoretical average to aim for is 9.6 knots. In reality on water, the average speed will need to be maintaned above 12 knots, because sqiling in a straight line is not possible.
We will have to deal with the eastern trade winds, which at this time of year generate winds of 15 to 30 knots, and even gust over 40knots , while being wary of the doldrums located below our trajectory, which could rise several degrees under the effect of a high-pressure system.
The size of the waves will also be important, depending on the conditions, we could surf with the swell and be carried along at a good pace or, on the contrary, have to face it head-on, which would considerably slow us down.
This is not an easy record to tackle, especially on a sport catamaran of this size (6.10 meters). We will be low close to the water, constantly soaked and with the near impossibility of resting properly. The management of the human capacities on this type of record has all its importance. It will be necessary to detect early the tiredness in the other and to be conscious of its own physical state in order to find ourself in the red zone at the same time.
Knowing one's partner well for such a project is essential and what better way than being between father and son…
My father and I have been sailing together in competition since 2018, our titles and records have convinced us to launch ourselves, father and son, to the Atlantic Record, which will be a first! Our bond will naturally make us more considerate of each other, and I think that this closeness will be an asset in the management of the crew to keep all our lucidity and increase our performance level.
By embarking on this challenge, a world first, we intend to hold at the same time and with the same crew, the 4 great world records officialized by the WSSRC in the sport catamaran category.
A Little History... Of Family
The Atlantic record in a sport catamaran in figures and… a family story too.
1986: Laurent Bourgnon (my uncle) and Fred Giraldi are the first to sail from the Canaries to Guadeloupe in 21 days on a Hobie Cat 18, a crazy project at the time, which will contribute to the launch of his career and to his legend.
In double :
1986: Jacques Pradel and the Australian Tony Laurent joined Dakar and Pointe-à-Pitre in 18days 22hours on a Hobie Cat 18.
           This will define the official course of the Atlantic Record approved by the WSSRC.
1993 : Jean-François Pellet and François Picot in 21days 6hours on an 18 foot catamaran
1999: The Dutch Hans Bouscholte and Gérard Navarin in 15days 2hours on a 20-foot catamaran
2005: The Italians Andréa Gancia and Matteo Miceli in 13days 13hours 58mins on a 20-foot prototype
2007 : Benoït Lequin and Pierre-Yves Moreau in 11days 11hours 25mins on a 20 feet prototype
2017 : Italians Vittorio and Nico Malingri in 11days 1hour on a 20ft prototype
 
Single-handed:
2002: Alessandro Di Benedetto in 27days
2004: Jean-François Pellet in 25days between Madeira and Guadeloupe
2013 : Yvan Bourgnon in 21 days between Gran Canaria and Martinique
In 35years, only 10 crossings of the Atlantic will be realized in sport catamaran.
If you wish to embark with us and support us for this record, contact us!